Origins
The Vance Integral Edition project was started in 1999. At its peak there were hundreds of working volunteers and subscribers, with an international management group of 40.
Goals and Achievements
The project's goals were:
1. Create a complete and correct edition, in 44 volumes, a permanent, physical archive of Vance's oeuvre disseminated world wide, doubled by a digital archive (made available to commercial publishers).
2. Promote the universally appealing work of Jack Vance through library donations. Funded by the Paul Allen Foundation, and private individuals, dozens of libraries around the world received V.I.E. book sets.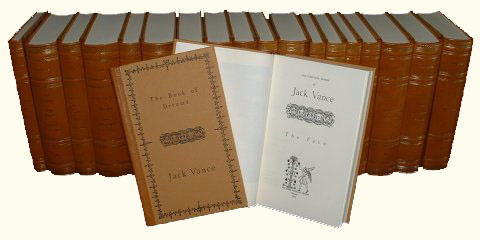 The V.I.E. has published several promotional and model books:
The Gift Volume:
Coup de Grace and Other Stories; an introduction to Vance's work in one volume.
The Science Fiction Volume:
The Languages of Pao and The Dragon Masters; Vance's two most famous science fiction stories, illustrated.
The Frankfurt brochure:
A promotional publication prepared for the Frankfurt book fair, describing the Scope and goals of the VIE in two articles, translated into 6 languages: English, French, German, Dutch, Swedish and Italian.
The complete sets:
The VIE book set itself was available as a set only. It came in two formats; the Readers' edition, and the all-leather Deluxe edition. The initial price of a VIE Readers' edition was $1,250, changed to $1,500 for later orders, plus shipping; about $36 per volume.
The Deluxe price was $3.000, plus shipping. Subscriptions were accepted into 2004.
The VIE was printed and bound in Milan, Italy, by Sfera International. Twenty two VIE volumes were delivered to subscribers in the spring of 2003. The rest in 2005. At that time the already printed books (known as 'wave one') were re-printed for newer subscribers.
Methods
The VIE project, one of the most innovative uses of the Internet in the cultural sphere, was carried out by hundreds of Vance readers world-wide. Arthur Cunningham of the British Library, one of the benefactors of a VIE set donation, writes:
"The sheer scale of the V.I.E. achievement is impressive in every degree. For so many people to work in such a thoroughly professional and well coordinated way, exploiting the technology of the Internet to manage an immensely complex project must surely be a first, and is in itself an impressive demonstration of purpose, integrity and dedication. "
Manuscripts were consulted when available, including the resources of the Special Collection of the Mugar Library in Boston, as were all published versions, in consultation with the Vances. After restoration the texts were subject to several controls, including data-management tools developed by volunteers and teams of proofreaders. Technology was exploited to the full, but VIE work remained labor intensive.
Customer service
The books were delivered without guarantees but VIE subscribers, with volume problems, . We will help if we can.


Some privately held VIE volumes, or even sets, are occasionally made available. This sometimes occurs at
Blantize market town, on the Foreveness Message Board.